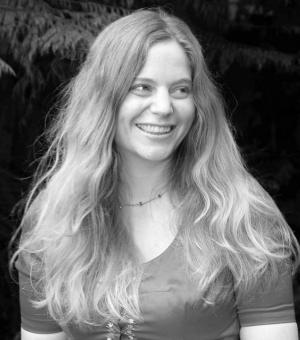 Sally Bayley's early life was so blighted by neglect that she put herself into care aged 14 and didn't see her family for the next 12 years. In 1990, She was the first child to go to university from West Sussex County Council Care services. She studied at St Andrews university, and then went to America, where she taught aesthetic education in midwestern schools and universities and foundation arts courses to adults in inner city Ohio.

'Girl with Dove' is part memoir, part fiction. Growing up in a dilapidated house by the sea where men were forbidden, Sally's childhood world was filled with mystery and intrigue. Hippies trailed through the kitchen looking for God – their leader was Aunt Di, who ruled the house with charismatic force. When Sally's baby brother vanishes from his pram, she becomes suspicious of the activities going on around her. What happened to Baby David and the woman called Poor Sue? And where did all the people singing and wailing prayers in the front room suddenly go?
Girl with Dove combines the voices of literary characters with those of her real-life counterparts, Girl With Dove reads as a magical series of strange encounters, climaxing with a comic performance of Shakespeare in the children's home where Sally is eventually sent.

No Boys Play Here is a coming of age story told through Shakespeare. In Sally Bayley's childhood, the men were often missing. Missing because they were drunk, or out of work, or in prison, or wandering. Or missing because their behaviour had provoked women to ban them from the house.
The man who was around for Sally was Shakespeare, and he brought men with him to fill the gaps. Sally grew up with a troupe of sad kings and lonely heroes. Her mind ran away from home with Falstaff and Prince Hal, with deceivers and mavericks and geniuses.
In her signature and extraordinary style, this is Sally's story of her childhood – one lived with darkness snapping at heels, with real and imagined people passing through interchangeably, and with trauma a spiky memory to be skirted and avoided.
Inventive, literary and adventurous, this is a story of poverty, missing fathers, sons and a testament to the way that great literature and its characters can guard an imagination against the bad.

Bayley is currently a Lecturer in English at Hertford College, Oxford. She also teaches on the Sarah Lawrence visiting programme at Wadham College, Oxford.