Academic Books & Book Chapters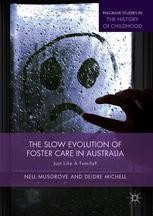 Just Like a Family? Writing to Heal—The Emergence of Foster Care in Literature'.
​Authors: Musgrove, Nell, Michell, Deidre. This book draws on archival, oral history and public policy sources to tell a history of foster care in Australia from the nineteenth century to the present day. It is, primarily, a social history which places the voices of people directly touched by foster care at the centre of the story, but also within the wider social and political debates which have shaped foster care across more than a century. The book confronts foster care's difficult past—death and abuse of foster children, family separation, and a general public apathy towards these issues—but it also acknowledges the resilience of people who have survived a childhood in foster care, and the challenges faced by those who have worked hard to provide good foster homes and to make child welfare systems better. These are themes which the book examines from an Australian perspective, but which often resonate with foster care globally.